offer your members
marketing for their business
VALUE ADD YOUR MEMBERSHIP WITH MOBILE Marketing CONNECT Software!
* EVERYONE HAS A MOBILE PHONE
* MOBILE PHONES ARE CHECKED MORE THAN 100x A DAY
* 70% OF CONSUMERS WANT TO RECEIVE MOBILE OFFERS
* REACH PATRONS FAST  

SPECIAL OFFER FOR CHAMBER MEMBERS
MOBILE CONNECT AT NO COST (SAVE $299)
QUICK AND EASY SETUP
MORE SALES AND REPEAT BUSINESS!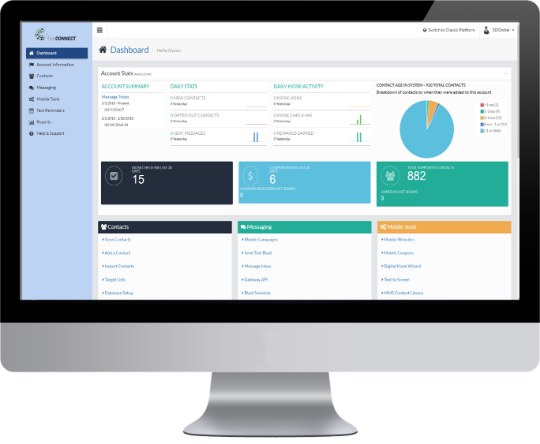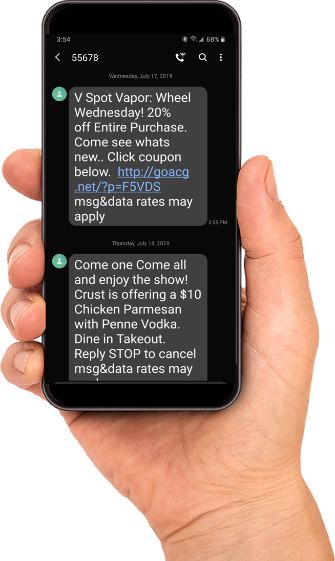 Build word of mouth, Customer List builder, and engage customers.
GIVE YOUR MEMBERS
MOBILE CONNECT!!
Chamber members get our easy to use and powerful marketing software with built-in patron database, bulk text message offers, coupons, and triggers. Mobile CONNECT makes it easier to create leads, drive awareness, build loyalty, and generate sales.

unlimited opt-ins and sign ups
Go ahead build a massive database
automate promotions
Deliver automated campaigns by text message including: Thank You, We Miss You, happy birthday wishes, thank you notes, and happy holidays to your customer's mobile phones on auto-pilot.
250 messages, Offers, coupons or promotions
It's easy to grow your sales when you can send offers instantly.
Refill messages
affordable refills starting at $50 for 1,000 texts that roll over if not used.
CHAMBER OF COMMERCE PROGRAM 
CHAMBER OF COMMERCE PARTNERSHIP
A partnership with Merchant Marketing Solutionsoffers your Chamber, and your members, effective marketing tools and skills.  From Check-in systems, to email & mobile marketing to rewards and surveys to social sharing and more, your Chamber will receive FREE access to our entire suite of tools, and your members will receive big discounts too!

Marketing Tools $1
Powerful Marketing Software that every business can use.
30 day trials
Member s can try before they buy our Mobile and Marketing Suite platforms
Workshops
We host online workshops to help members get the most out of our systems, increase business and grow a customer contact list
discounts
Members will receive up to 25% off annually on our products and services
white glove services
All chamber members will receive white glove service helping them get the most from their marketing and our services.
Chamber Marketing Platform
All chambers receive our All-In-One CONNECT Suite Software a marketing powerhouse.
Chamber Marketing Platform
*Complimentary FanCONNECT account for up to 5,000 messages, reminders, and check-ins valued at $3,000 annually
*Surveys, and mobile marketing tools
*Custom branded holiday and promotional email templates
* Professional support and advice from our coaches 
* Access to webinars for your small business marketing

* More than 40 built-in automations 

* Engages members
* Send announcements and reminders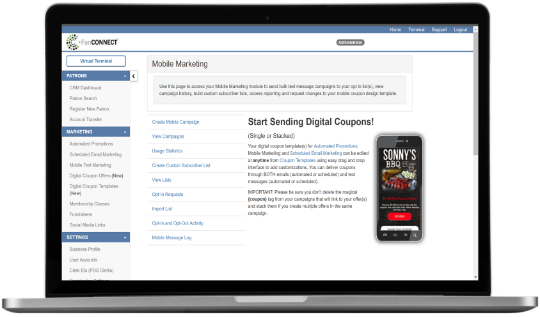 boost mixer attendance, send reminders on upcoming events, and membership renewals.
PREMIUM FEATURES
MIXER & EVENT KIOSK
Boost attendance for mixers and events.
build a member database
reduce no show mixers
increase mixer and event attendance
automation
Send offers, reminders, specials and promos with automaton.
HOLIDAYS
anniversary
thank you
referral
rewards
Reward your members for referrals, spreading word, and mixer/event attendance.
Mixer rewards
check-in for mixer or event
referral program
viral share
engage
keep your members in the know
Send SMS messaging

Send SMS Alerts and reminders

Membership renewals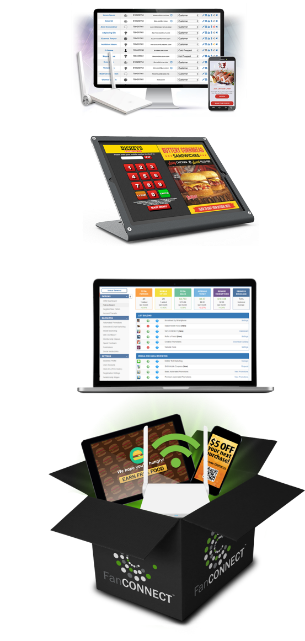 help your members boost their sales and repeat business
member solutions
Consumers look at their mobile phones 150 times a day.  Making the mobile screen a great resource for marketing.  Help your members grow their business. 
CHAMBER MEMBERS RECEIVE 15% OFF FOR SIX MONTH OR 25% ANNUALLY
WiFi automated Marketing and Guest engagement
Offer WiFi Marketing and Guest Engagement Capture customer contact info like email, mobile numbers and Facebook data with ease and automate marketing based on recency and frequency.  Perfect for retail and restaurant.
Mobile - sms marketing, Loyalty KISOK, Coupons
Offer your customers our Mobile KIOSK solution to push redeemable coupon offers, engaging mobile messages, birthday and loyalty promotions. Perfect for retail, restaurant, and small business.
MARKETING Suite - EMAIL, MOBILE, WIFI, AND REWARDS platform
The Marketing Suite includes email, mobile, referrals, rewards, and automation all in one platform. Great for restaurants, retailers, and small business that want a complete single platform for their customer engagement, referrals, and customer appreciation.
10
Years
Serving small businesses
 SINCE 2008.
350 Million
Texts | Emails | offers
Messages sent to patrons across the U.S. and Canada on behalf of merchants
1.5 Billion
Promotions, Rewards, and Incentives
More than 1.5 billion dollars in promotions for businesses sent.
11 Million
subscribers
More than 11 million consumers have opted in or signed up to receive offers
Clients and Campaigns
Just a few great clients and promotions
Contact us: (800) 775-6751