Hi there,  Welcome to Your CONNECT Suite. 
Ready to get started?

How to use your Marketing Suite
CONGRATULATIONS!  We're glad you're here.  The CONNECT Suite will help you increase repeat business, get new customers and boost your sales.  
Check Your Email for your Login information.
This is your Promotion center Dashboard.  Were you manage you customers, marketing, coupons, reports and more
Connect with a success specialist
Take the easy route to configure and set up your CONNECT Suite. Contact us and we will make sure you are ready to get sign ups, push offers and more.  
Schedule your walk through- CLICK HERE email support: cs@getfanconnect.com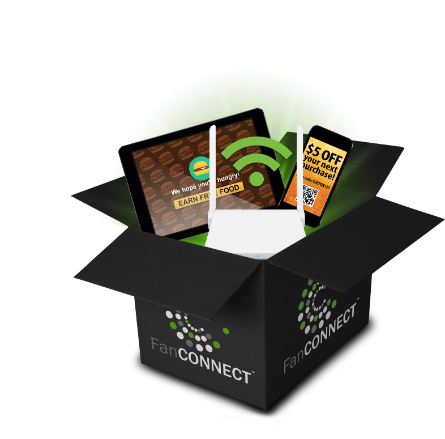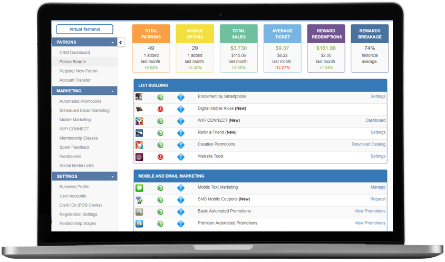 Get ready
login to your account
Login
Access to your account: Login
An email was sent with for your username and password
Schedule a quick walk through
01.

What's New
30+

New Features and Services
Marketing Suite is a complete marketing solution for your business.  Increase Repeat Business, Save Time & Money, Build Your Customer Contact List Faster.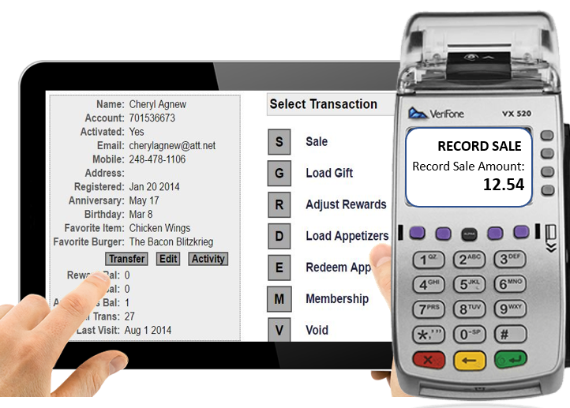 Innovative
Marketing Suite works on all screens. Touch, Tablet, Mobile Phones and PCs.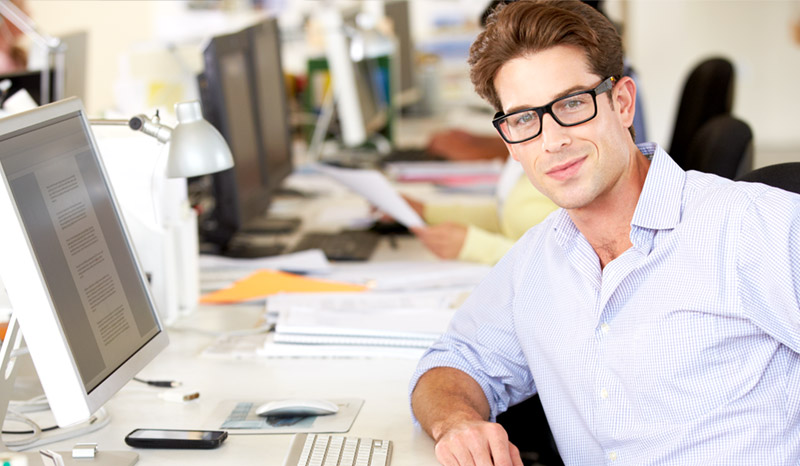 done for you
Use our professional services to design and send email and mobile marketing messages and offers to your customers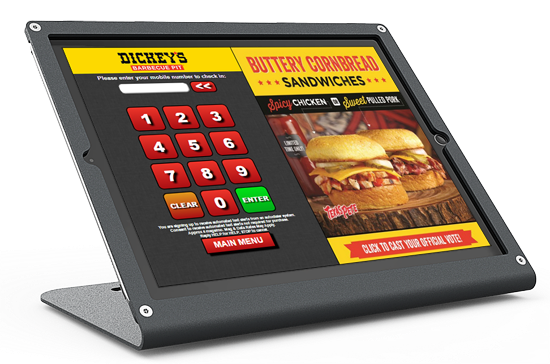 KIOSK Software
Quick and easy customer signup.  Customizable for your brand and works with Android, iPad, and Windows tablets.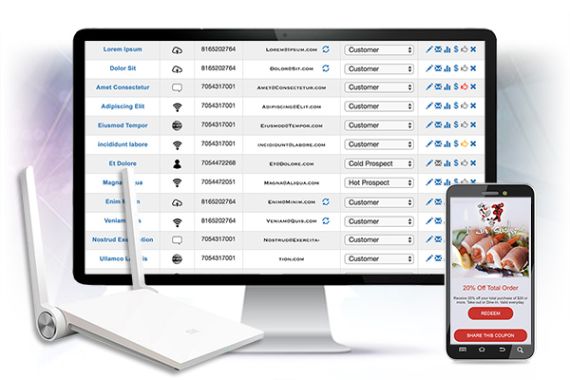 wifi marketing
Turn your Free WiFi into powerful automated marketing.
FEATURING
WiFi Marketing
Do you offer FREE WiFi?
You're missing out on sending surveys, bounce-back offers, and growing your customer list.   WiFi marketing is for places like coffee shops, restaurants, cafes, and retailers that want to provide free wireless internet access for their customers to surf the web and build value for the business so they can connect with their patrons.  

WiFi Marketing offers the ability to collect email, mobile numbers and Facebook information on customers that have logged in at the businesses location and helps to re-target or boost repeat business based on recency or frequency .

Upgrade to WiFi CONNECT - Talk to a Customer Success team member cs@getfanconnect.com or 800-775-6751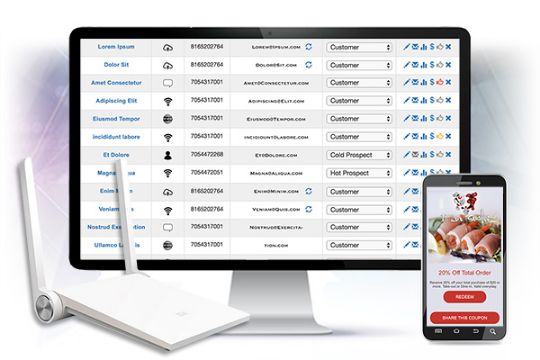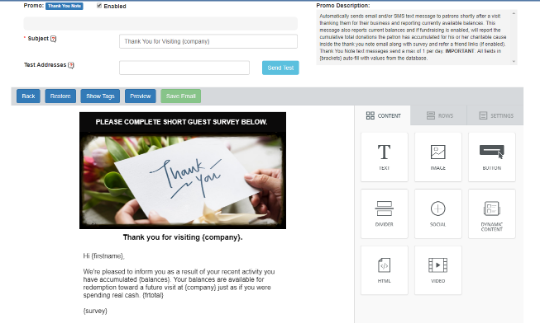 NEW
Automated Email marketing

●
User Friendly Drag-N-Drop interface.
● More than 20 automated marketing events   
●  Build awesome emails with the Built-in scheduled email marketing 
● Add a digital coupons with expiration
● Add Facebook and other social media badges and links.

New
automated Mobile Marketing
WiFi CONNECT sends SMS Text message offers, promotions and messages to patrons that provided their mobile number to access the internet.

● Digital Coupons
● SMS text based offers
● Share coupons
● Engage automated marketing.
● Birthday Club

Automation send immediate Thank you messages, monthly offers, promotions, holidays greetings and more.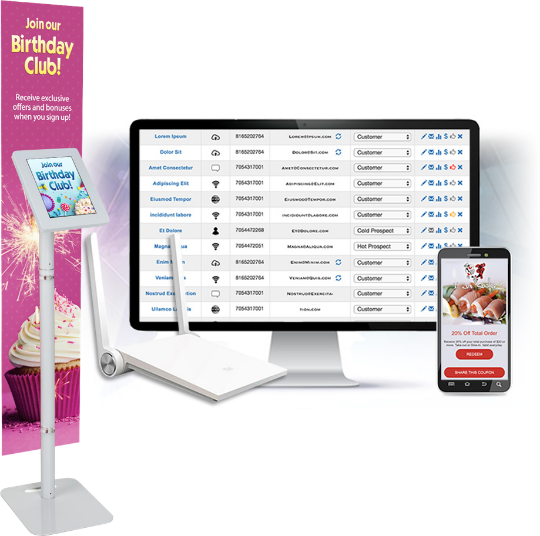 NEW
mobile KIOSK
Mobile KIOSK allows a merchant to use a tablet at a counter or floor display to capture their patrons mobile numbers and automate rich coupons, engage their customers or build a customer database. 

● HIGH ROI
● Custom look and feel
● Use for Customer Opt-in, Loyalty Program and Coupon Redemption
● OPTIONAL KIOSK Enclosure 
● Mobile KIOSK has greater customer acquisition rate

premium features and GET MORE SIGN UPS, CHECK-INS AND COUPON REDEMPTION and automation WITH marketing suite
PREMIUM FEATURES
automation
40+ Automattions
Let FanCONNECT send offers, coupons, specials and promos automatically.
HOLIDAYS
Birthdays
anniversary
thank you
referral
WIFI MARKETING
We'll turn your WiFi into a marketing machine.
5X faster data collection

Capture customer email address, mobile#s and facebook info
Automate Marketing based on frequency 
KIOSK
phone number sign up 



Digital Coupons
viral share
issue rewards based on check-ins
Birthday club
Celebrate your customers birthdays with built-in birthday marketing
people are ready to spend money on their birthday
more shoppers
increased avg. sale
by

78%

or more
CONTACT US
We're fanatical about your success and we're here to help